Spotlight On: Pavol Fabian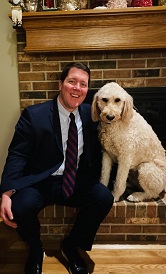 Please tell us a little about your background, where you practice, your areas of practice, and how long you have been involved with criminal defense.
Let me start way, way back: I was born in Slovakia, a small country in Eastern Europe, which lends context to my name. My parents were not being creative. We moved to the States when I was 9, and I grew up, for the most part, in Houston, Texas. Despite my boyish looks (see photo), I am a relative latecomer to the law; I'm 38 and have only practiced for 6 years. I'm based in Grand Rapids but practice all over West Michigan. I handle mostly felonies—anything short of homicide, at least so far—in State courts and occasionally make my way into Federal court. My criminal practice consists of both retained and appointed cases (about 75% retained to 25% appointed). And just this year I joined the MAACS roster to help indigent folks file their appeals. Selfishly, I also joined to gain access to this tremendous legal community and learn more about appeals from them.
Please tell us about one of your interesting cases.
A 30-something neighbor calls the cops around 3 a.m. because the house next door is throwing a party and he, his wife, and newborn can't sleep. He goes outside to tell them to keep it down and they get into it, yelling back and forth. Next thing you know, four drunk guys come barreling out of the house and come at him. He's on his property, and as they get close, he points his gun at them to get back. That ends it. Of course, cops show up; talk to everyone; determine the partiers, who are in their early 20s and have alcohol levels in the late teens (.16/.17 etc.), are actually the "victims" here; and the guy who called the cops for help gets arrested for felonious assault. I take this case thinking this should be "easy." He's vastly overcharged, and any prosecutor will surely and quickly come to their senses. And yea, okay, maybe he shouldn't have flashed the piece, but it was reasonable under the circumstances. I track down his 911 call, which corroborates the story and lends nice context to his state of mind, play it for prosecutor . . . and NO OFFER. Luckily, I posted about this case on a criminal defense listserv where I got invaluable input and the seed of an idea: That the Self-Defense Act places an additional burden on the prosecutor at the preliminary exam to "establish" that the 30-something neighbor wasn't acting lawfully—that he didn't just "stand his ground." I talk to another attorney, who briefed this issue, and he shared his motion and brief with me. Armed with this legal ammunition, we get to the preliminary exam where the prosecutor lets us know that he'll add a mandatory 2-year felony firearm offense if we don't waive. We don't waive. [Meanwhile, this client has no criminal history, and this guarantees 2 years in prison for him if he's later convicted.] We run the hearing. Testimony is good for us. I make my motion, submit my brief, and the court takes it under advisement. The prosecutor does, unsurprisingly, try to add the mandatory prison offense. Court reserves that issue. Three weeks later, we get the opinion and order from the court dismissing the case because the prosecutor did not "establish" my client wasn't acting lawfully under the Self-Defense Act. The court concluded he just "stood his ground." [This got appealed to circuit court, so I got to write an appellate brief as well, but ruling upheld.] In the end, it was the right and just result. But this highlights the value and generosity of the criminal defense community—and what a different perspective can bring. Just be willing to tap into these resources.
Has anything "good" come from the COVID-19 pandemic in legal practice?
There are very few silver linings to this pandemic, but there are two I can think of. First, it forced the State courts to embrace using technology. The degree of success varies by jurisdiction, but I think it is a step in the right direction. Was anyone even aware that most courts were already set up to host Zoom before the pandemic? Not me. Still no electronic filing in most places I practice, but holding a pre-trial conference by Zoom makes all the sense in the world. Why drive an hour (each way) just to set a case for trial? Second, it has made access to continuing legal education so much more expansive; and most of it is free! Organizations throughout the state and country have provided countless, quality trainings in a variety of areas. As an example, I went to a free seminar with Larry Pozner (of Pozner & Dodd fame) where he did a Q&A with participants one-on-one using their fact patterns to help them flesh out lines of cross-examination. Pretty cool. As an avid attendee of legal trainings, there were points in time where I couldn't make one seminar because it conflicted with another. I hope this trend continues. I still want to go to in-person seminars, but I think these Zoom trainings have a place going forward.
Do you have any specific advice for attorneys new to the practice of criminal law?
Find a mentor (or two, or three). Join your local Bar Association. Join State Organizations (CDAM, SBM Criminal Section). Even join national organizations (NACDL). Join Listservs, like SADO ***this may be my hottest take*** but I personally find them invaluable (admittedly, they can be overwhelming). And don't be nervous to do it: you'll find other lawyers, particularly in criminal defense, are not only welcoming but are extremely generous with their time and willingness to share their knowledge. At a bare minimum, it's always good to have someone to kick ideas around with. Best of all, mentors become colleagues and friends. If you are still hesitant, and you need a place to start, my email and cellphone are listed on the Bar website. As of this writing, I'm still the only Pavol in the Michigan bar, so the search isn't hard.
Mr. Fabian's website: https://zamzowfabian.com/
by Neil Leithauser
Associate Editor