Spotlight On: Patricia Maceroni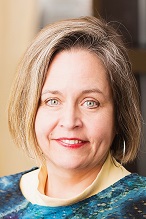 Please tell us a little about your background and what brought you to criminal defense?
I am the oldest of four-I have three younger brothers. My mother, Eileen, was a social worker, very passionate about civil rights and social justice. Both of her parents had fought for the Irish Republican Army in the War for Irish Independence from 1916-1921. My father, Peter, was an attorney, specializing in plaintiff personal injury litigation. I went to Wayne State University and graduated with a degree in history and a love of writing but wasn't sure what to do with those two things. After I graduated, I spent several months living and working on the Navajo Nation in Arizona. I lived with an elderly couple and helped them with their farm-hoed corn and herded sheep. I came to appreciate just how oppressive and prejudicial governments and institutional policies can be. I wanted to help people affected by that reality. I decided to go to law school and enrolled at the University of Detroit Law School.
My second year of law school, I was an intern at SADO and came under the tutelage of Norris Thomas. Norris was a criminal defense attorney's criminal defense attorney. His intelligence, compassion for clients and dedication to social justice are legendary. SADO has a Norris Thomas award it hands out yearly to SADO staff attorneys who best embody his ideals. After that internship, it was just a question if I was going to do criminal defense work at the appellate or trial court level. I participated in U of D's Urban Law Clinic, representing individuals charged with misdemeanors at the Harper Woods District Court, and decided on trial work. However, I was a MAACS roster attorney for most of my time in private practice.
Before you joined the Michigan Appellate Assigned Counsel System (MAACS) as Litigation Support Counsel, you were in private practice. What was the nature of your private practice? What type of law did you practice?
I was in private practice for 30 years. When I graduated from law school, I was fortunate to join my Dad's solo firm. He ran for Macomb County Circuit Court the same year I took the bar exam, 1990. I found out on a Friday that I had passed the bar and that Tuesday he won his election. Needless to say, the following six weeks before he took office were intense!
I slowly built up a criminal defense practice. I applied to just about every Macomb County district court assignment list. I also accepted felony assignments through Macomb County's Judicial Aide. I was a MAACS roster attorney. Through the court assignments, I started to get retained work. I also became a CJA Panel attorney in the U.S. District Court, taking federal court appointed cases. I loved all aspects of representing my clients, whether that was at the trial court or appellate level. Being in trial was the best part of my practice. I have had oral arguments before the Michigan Court of Appeals, the Michigan Supreme Court and the Sixth Circuit Court of Appeals.
Please tell us about the Litigation Support Counsel position.
The subtitle of Litigation Support Counsel should be "Help Me Help You!" My primary responsibility is to work with new roster attorneys-whether they are new Level One attorneys taking plea-based appeals or Level One attorneys reclassified to Level Two attorneys taking trial based appeals. I work closely with them to determine potential issues to raise, jurisdictional deadlines and briefing schedules as well as review their appellate pleadings. Per MAACS regulations, that review is for their first two assignments and thereafter as necessary.
I am available to help any MAACS roster attorney, whether that's reviewing pleadings, finding an expert, discussing legal strategy-whatever they need help with. Before the pandemic, I was going to sit second chair with a roster attorney who had an upcoming Ginther hearing in Berrien County. I'm available to help brainstorm and prepare questions for a hearing or mitigation presentations for re-sentencings. Kathy Swedlow reaches out to any MAACS attorney who has upcoming oral arguments and I've been part of the moot court trainings for those attorneys. The roster attorneys are in private practice, most in small or solo firms. As appellate attorneys, they don't have the structure or the support that the attorneys at SADO have, so my goal is to help them as much as possible. I was a sole practitioner, and I remember how overwhelming appellate practice can be with the deadlines and rules.
I also facilitate "Case Rounds" every two weeks. That is a virtual Zoom "walk down the hallway" for MAACS attorneys to discuss their case issues, brainstorm legal strategies and discuss recent appellate decisions. Finally, I have a small caseload of my own appellate clients—the majority are MAACS assignments I accepted before I started this position.
What trends have you noticed in criminal practice in recent years?
The Michigan Indigent Defense Commission has been a complete game-changer for criminal defense practitioners. The CLE requirement for attorneys accepting court appointments was a huge step towards improving the representation for indigent clients. The requirement that an attorney must be present at the arraignment hearing is also critical in providing effective representation and keeping people out of jail. The move to abolish money bails and pre-trial incarceration, except for those charged with the most serious offenses, is a surprising and welcome development. MCR 6.106 sets forth a presumption that only those charged with the most violent offenses be detained, but that is not the practice in Michigan Courts.
I also believe that there is a growing realization that excessive punishment is not effective in reducing crime. The Black Lives Matter movement and the nationwide protests this past year have put front and center what we as criminal defense attorneys have long known—that African Americans are treated much more harshly in the criminal justice system in both the juvenile and adult courts. The newly elected prosecutors in Washtenaw County, Eli Savit, and Oakland County, Karen MacDonald, ran for election promising significant criminal justice reform. In years past, that type of promise would have been a death knell to their campaigns.
How might we improve our criminal justice system?
Fund the criminal defense system equally with the prosecutors. Criminal defense practitioners have to be paid a decent wage-not dependent on an arbitrary determination of how much a plea hearing in circuit court is worth. The flat-fee schedules employed by the majority of the circuit courts reward attorneys for spending the least amount of time on a case. Most still don't pay for research time or writing pleadings. The lack of funding for investigative and expert assistance also deprives many clients of due process and fair hearing.
Think of the disparities. The assistant prosecuting attorney has a regular paycheck, paid holidays and benefits-with no concerns about paying a staff or maintaining an office. Every case has at least one, if not several, police officers to assist the APA in locating witnesses, collecting evidence. The APA has the MSP Forensics Lab to run any type of forensic test. Compare that situation with most attorneys who accept criminal circuit court assignments. They do not get paid for their work on the case until it is over. Most are hostage to an antiquated fee schedule that won't compensate them for the time and work put into the case. Any investigative or expert assistance is subject to the approval of the circuit court.
One of the brightest developments from the MIDC is the establishment of public defender offices throughout the state. I hope that leads to the type of public defense system that is in the federal court. The Federal Defenders Office is staffed with excellent attorneys. The FDO is supplemented with a list of panel attorneys, attorneys in private practice who have to apply to be accepted on the panel and take cases that the FDO cannot. The panel attorneys are paid an hourly fee, based on the time and work that is put into the case.
Do you have any specific advice for lawyers new to the practice of criminal law?
Join your local bar organization and become active with the criminal law committee. Also, join the Criminal Defense Attorneys of Michigan (CDAM). CDAM is the only state-wide organization dedicated to the education of and support for criminal defense attorneys. CDAM also has a lobbyist in Lansing so that the concerns of our members and our clients are considered before any legislation is passed.
CDAM offers extensive training, both through webinars and Zoom conferencing. All training is presumptively MIDC-complaint—the programs are excellent and a great way to meet other criminal defense attorneys. CDAM also has three conferences each year. The fall conference is held at Boyne, the spring conference in Detroit, and the summer conference is in Kalamazoo. Of course, this past year the conferences were all virtual. The professional relationships you build at the conferences will help you become a better lawyer.
Professional relationships are important both to building your practice and becoming a good lawyer. Starting out, I was lucky enough to share office space with other criminal defense attorneys. I would suggest finding an attorney whose style in court you like and watch them. See if there is an opportunity for a mentoring relationship. I know as a young attorney that may take up valuable time, but it is really worthwhile. Many bar organizations have mentoring programs. Even if you cannot work together on a case, develop a relationship with a more experienced criminal defense attorney so you have someone to brainstorm your cases with. To this day, I will call and ask to bounce a set of facts off of another attorney or ask them to proof a pleading.
Editor's note: Ms. Maceroni's brother, James, is currently a judge on the 16th Judicial Circuit Court bench in Macomb County, see Perspective from the Bench: The Honorable James M. Maceroni,
http://www.sado.org/Articles/Article/854
by Neil Leithauser
Associate Editor